Abarth 595 Competitizione – Member's Car Review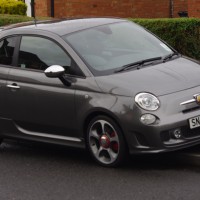 It was with a feeling of some trepidation that I walked up the aisle to get married in October last year – not because I was unsure whether I was making the right decision but because I knew that it wouldn't be long before the choice of car that I drove would come under intense scrutiny from my new husband and the Logan family.
You see they are passionate about their cars and my husband Jeremy has been looking for an opportunity to officially join the Northern Ireland Italian Motor Club for some time.  Would my days of driving a Peugeot (albeit a stylish RCZ) be numbered?
I began to wonder when Jeremy suggested that we take a race up to Donnelly's at Mallusk "just for a look" at what they had in the showroom. I have to confess that I had always thought the Fiat 500 was a cute and fun looking car but I'd never considered buying one. That was until I clapped eyes on an Abarth 595 Competitizione. From the moment I saw it I was intrigued and wanted to take a closer look. It's appearance was certainly eyecatching but when I hopped into the demonstrator model I was even more taken by the noise it made as the engine burst into life and burbled purposefully as I turned the ignition key.
The impressive Record Monza dual-mode exhaust system complete with four tailpipes is just one of the performance enhancements fitted to the car. The most pleasing aspect though is that the exhaust features a butterfly valve that opens automatically at approximately 3,000 rpm to optimise engine response – and enhance the soundtrack!
It certainly sounded just like an Abarth should sound and what's more it's performance credentials have been enhanced too due to a more powerful engine, upgraded from the standard Abarth 500's 135hp to 160hp.
Cosmetically, the 595 Competizione has been upgraded, too. Standard equipment includes dark tinted rear windows, titanium grey inserts to the front and rear bumper grilles, and unique 595 Competizione badges on the flanks and the rear tailgate.
Inside, the sporty personality continues thanks to the Abarth Corse by Sabelt seats, bearing the 595 logo embroidered on the headrest, while the pedals, footrest, gear lever and door sill kick plates all draw inspiration from Abarth's race cars and are made from aluminium, machined with Abarth motifs.
Not forgetting the creature comforts the Abarth 595 Competizione also features powerful Xenon headlights, automatic climate control, an automatic dipping rear view mirror and rear parking sensors as standard equipment.
Other additions include bespoke floor mats, machined aluminium fuel and oil filler caps, upgraded front and rear dampers, cross-drilled front and rear disc brakes, 17in five-spoke anthracite/diamond finish alloy wheels,  red brake callipers and a choice of 10 exterior colours (my favourite being the slightly more subtle Record Grey Metallic Paint) .
Out on the open road the Sabelt seats certainly hold you in position as you grip the racing steering wheel. The car is eager to perform and begs to be driven fast and has all the essential ingredients which add up to produce an Italian "hot hatch" "pocket rocket" that has the style and performance to set you apart from the crowd.
So was all this enough to tempt me to seriously consider the Abarth as an ownership proposition – the answer is a resounding yes. It didn't take long before the deal was done and by the end of November 2012 I was the proud owner of an Abarth 595 Competitizione.
After two months the ownership experience gets better every day. The car performs well in all environments whether it be city driving or a blast on the open road and everywhere you go it attracts many admiring glances – what more could a girl want.
My overall conclusion on the Abarth 595 Competitizione is that it is cute, perfectly formed, extremely lively and full of character – a bit like me really!!
Now what are you waiting for – treat yourself and go and buy one!!
Clare Logan