Another roaring success for Italian Motor event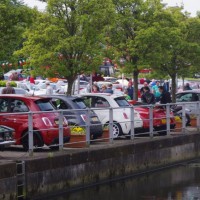 The end of May had arrived and that can only mean one thing – the Gregg Street carpark at Lagan Valley Island (LVI) would be transformed into a multi coloured spectacle of glorious Italian design as the annual All Ireland Italian Motor Event returned to Lisburn for the sixth time.
From 8am the carpark was a hive of activity as members of the Northern Ireland Italian Motor Club arrived to set up for the show.  A short skiff of rain was short lived and we looked forward to another dry day – one of the key ingredients for a successful car show.
With all hands to the pump the car park was quickly transformed, ready to welcome the crowds that would shortly descend on LVI to pay homage to some of the finest automotive designs in the world.
The Italian Motor Club gazebo took centre stage and was adorned with posters encouraging enthusiasts of Italian vehicles to sign up and join the club or to purchase some of the impressive club merchandise. The Italian bunting, gently fluttering in the morning breeze, served to reassure new visitors to our show that they had arrived in the right place.
This year the club were privileged to be joined by Phil Ward, Editor of the highly respected national magazine Auto Italia and his wife Josie who had flown over from England at the Club's invitation to look at the range and quality of cars that we would have on display.  Other special guests were Tony Castle Millar and his colleague Keith who had brought two very rare cars over from England for visitors to feast their eyes on and work out what they are ( in case you are still wondering they were a 1965 Abarth Simca 1300 GT Longnose and a Tornado Fiat 600 GT)
By 9.30am the carpark was already filling up with a fabulous mix of cars and motorbikes.  One moment a rare example of a 500 Abarth Assetto Corse/Trofeo race car replica was arriving and within minutes CCRS were unloading the latest Ferrari California, courtesy of Charles Hurst Specialist Car Division.
The cars and motorbikes were arriving thick and fast and soon John McKay and his family and friends appeared in four truly impressive cars – a Ferrari 550 Maranello, a classic Dino Ferrari, a stunning Alfa Romeo Montreal and the original and iconic Fiat 500 in the form of an Abarth 595.
A selection of classic Moto Guzzi motorbikes soon took upa prominent position and Donnelly Group staff carefully arranged their cars – the latest offerings from Alfa and Abarth, including the recently revised Giulietta and the much acclaimed Alfa 4C.
Cyclists and pedestrians using the Lagan towpath gazed in awe at the selection of stylish Italian cars that were gathering and the distinctive exhaust notes from some of the vehicles provided the perfect soundtrack.
Phil and Josie Ward soon arrived driving a Lancia Beta Coupe Volumex and an Alfa Romeo 146Ti courtesy of Patrick Hurst who arrived with them driving the increasingly rare and much sought after Lancia Thema 8.32.
The Mayor of Lisburn and Castlereagh, Thomas Beckett officially opened the show and by noon everything was in full swing, and a seemingly endless stream of onlookers descended on LVI to look at Italy's finest.  With the arrival of a selection of Fiat's from Classic Fiat Ireland and the Alfa Romeo Owner's Club Irish Section the line-up was almost complete.
Every car and bike at the show is worthy of mention but without doubt one of the most eye catching vehicles was Nigel Hicklin's yellow Lamborghini Aventador SV Roadster. It has been several years since we have been able to boast a Lambo at our show and this example was simply stunning.
Many of those attending the show were repeat visitors keen to attend what has been described as one of the finest automotive events in the country. Others had joined us for the first time but all were agreed that the show had the essential ingredients – a friendly and welcoming atmosphere, a fantastic range of desirable cars and bikes as well as fabulous food and facilities at LVI.
During the course of the day there were in excess of 150 cars and motorbikes present at the show.  There was a variety of Ferraris and Maseratis  but not surprisingly their numbers did not match the range of Fiats, Alfa Romeos or Abarths. Lancias were relatively few but what they lacked in number they more than made up for in terms of the quality and rarity of the cars on display.
Nestled amongst the bigger cars were some small but perfectly proportioned Fiats – my particular favourite being Eunan O'Rourke's immaculate Fiat 850 saloon, a very rare sight which was much admired by the Fiat enthusiasts.
Not forgetting the 2 wheeled offerings, the line up on display demonstrated that the same style and design that Italian cars exude also graces their motorbikes – Moto Guzzis, Aprilias and Ducatis old and new were all present.
When it came to the prizes the winners on the day were as follows:
Best Italian Car sponsored by Donnelly Group
Won by David Laird for his orange Fiat 131 Abarth
Best non-Italian vehicle sponsored by Michael McDonald, Nubawax
Won by Robbie Toan for his McLaren 570S
Best Italian Motorcycle sponsored by Millsport Motorcycles Ballymoney
Won by David Crawford for his 1957 Moto Guzzi Lodola
Best non-Italian Motorcycle sponsored by Charles Hurst Motorcycles
Won by Ian Patterson for his Triumph Rocket III 2300
Shannon's Choice sponsored by Mervyn Shannon from Shannon's Jewellers
Won by John McKay for his silver Alfa Romeo Montreal (prepared by Ken McBride)
Overall award for Best in Show sponsored by Charles Hurst Specialist Car Division
Won by Patrick Hurst for his Lancia Thema 8.32
Our thanks to the sponsors and exhibitors for their generosity in donating the prizes to the deserving award winners.
There were many positive aspects of the show but perhaps one of the most pleasing was the endorsement from our visitors from England, especially Phil Ward who admired the range and quality of cars and bikes on display and commended everyone for the warm and welcoming atmosphere throughout the day.
Once again this year's show was a roaring success on all levels and a great showcase for the best of Italy. We even had another dry and sunny day – we can't believe our luck!!