NIIMC road trip to mark new Abarth showrooms at Donnellys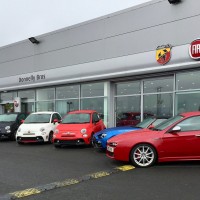 NIIMC members gathered in good numbers to show their support to Donnelly Group today as they celebrated the extension of their Abarth franchise to the Dungannon and Campsie sites.   The starting point for the day was at McDonald's at Sprucefield for the obligatory coffee stop. There was an impressive gathering of Italian metal in the carpark – 2 Maseratis, 6 Alfas, 3 Abarths a Fiat and a Lancia and by the time we arrived at the Dungannon showroom a further two Fiats and another Alfa had joined us.
We were given a warm welcome and more importantly more coffee, a superb bacon and sausage buttie and traybakes for those who were not watching their figure.
Stuart Pedlow, the Sales Manager and the other sales staff at Donnellys were the perfect hosts and chatted at length to NIIMC members about their passion for Italian cars. After some photos and video footage of the NIIMC  fleet of cars leaving the Dungannon showroom the cars set off cross country for Campsie. Waiting for them on arrival was Sales Manager, Brent Crawford who welcomed NIIMC members to the showroom before showing us the facilities and the cars on display.  Brent and his team mingled with club members and generously provided a spot of lunch which was dutifully consumed.
As a club we are delighted to continue to develop our relationship with Donnelly Group. We are pleased that we are able to extend our network of friends at Donnellys and we really value their interest and support in our club. It is a real credit to a large retail group like Donnellys that they take the time and effort to support our small club of Italian car buying enthusiasts.
We are confident that our association with Donnellys is going from strength to strength and hopefully the cars that they offer from Alfa Romeo, Abarth and Fiat will also generate sales success for them and ensure that these Italian brands go from strength to strength too.
Thank you Donnelly Group for your hospitality and for a great day out.
Tim Logan
Club Secretary