NIIMC defies yellow weather warning to celebrate Italian design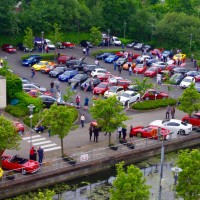 It's hard to believe that another year has passed and the end of May had arrived signalling the time for our annual All Ireland Italian Motor Event.  Once again the Gregg Street carpark at Lagan Valley Island (LVI) would be transformed into a stunning spectacle of glorious Italian design as we returned to Lisburn for the seventh time.
From shortly after 8am an army of red polo shorts arrived and soon afterwards the carpark was a hive of activity as members of the Northern Ireland Italian Motor Club started to set up for the show.  We were wary of the weather forecast which predicted with certainty that we would see some heavy showers during the day.  Our track record of  delivering a successful car show without a drop of rain would surely come to an end  after six years.
Despite the prospect of a wet event it was all hands to the pump and the car park was quickly transformed, ready to welcome visitors to LVI to admire some of the finest automotive designs in the world – designs which are the envy of other car manufacturers and which they often try to emulate.
The bright red Italian Motor Club gazebo took centre stage and was adorned with posters encouraging enthusiasts of Italian vehicles to sign up and join the club or to purchase some of the impressive club merchandise. The green, white and red bunting added a touch of Italy to the event and it fluttered gently above    as a signal to everyone arriving that they had come to the right place with their Italian cars and bikes.
The club was delighted to welcome back Phil Ward for his second successive visit. Phil who was accompanied by his son Michael are the Editors of the respected national magazine Auto Italia and they were keen to see the quality and range of cars and bikes on display. We are privileged that despite their busy schedule Phil and Michael took the time to visit our regional show, which although relatively small in size compared to other shows boasts real quality in terms of the vehicles on display.
By 10am the carpark was starting to fill up with a good mix of cars, both old and new. Donnelly Group and Charles Hurst Specialist Car Division had both brought some of the latest offerings from Alfa Romeo, Abarth, and Maserati as well as a rare and much sought after Ferrari 360M Challenge Stradale with an eye watering price tag of over £200k. Our heartfelt thanks to Drew McVeigh from Donnelly's and Marco Dos Santos from Charles Hurst and both their teams for bringing their cars and supporting our event.
Cyclists and pedestrians using the Lagan towpath gazed in awe at the selection of stylish Italian cars that were gathering and the distinctive exhaust notes from some of the vehicles provided the perfect soundtrack. All eyes then turned to look at a car rarely seen on Northern Irish roads – a Lamborghini Countach. It's owner Michael had recently purchased it and decided that there was no better place to drive it to than our show. We were most grateful. Phil and Michael Ward also soon arrived driving a Lancia Thema 8.32 and a Lancia Beta Coupe Volumex, courtesy of Patrick Hurst who arrived with them in his recently purchased Alfa Romeo Giulia Quadrifoglio.
The Mayor of Lisburn and Castlereagh, Brian Bloomfield MBE officially opened the show and he and his wife were escorted by Club Chairman Alastair McIlroy around the carpark to meet the car owners and look at Italy's finest. With the arrival of over a dozen cars driven by members of the Alfa Romeo Owner's Club Southern Section the line-up was almost complete.
Last year we had one Lamborghini at the show – an Aventador SV Roadster but this year we went one better. As well as the Countach a yellow Gallardo also cruised in at around lunchtime to the delight of the many young car enthusiasts who were keen to take photos and video the sight and sound of the car (preferably following a quick blip on the accelerator by an obliging owner!!).
Many of those attending the show were repeat visitors keen to attend what has become a must see show in the car enthusiasts calendar of events. Others had joined us for the first time but all were agreed that the show had the essential ingredients – a friendly and welcoming atmosphere, a fantastic range of desirable cars and bikes as well as food and facilities in close proximity in the Civic Centre at LVI.
During the course of the day there were in excess of 150 cars and motorbikes present at the show. There was a variety of Ferraris – 348, 355, 360M Challenge Stradale, 430, 488 and California as well as a selection of Maseratis but not surprisingly their numbers did not match the range of Fiats or Alfa Romeos.  Lancias and Abarths were relatively few in numbers but the quality and rarity of the cars on display was evident.
Not forgetting the 2 wheeled offerings, the line up on display demonstrated that the same style and design that Italian cars exude also graces their motorbikes – Moto Guzzis, Ducatis and Moto Morini were all present.
A number of prizes in various categories were awarded and our thanks goes to the sponsors and exhibitors for their generosity in donating these to the worthy winners. The overall Best in Show award winner was selected by Phil and Michael Ward and this year's winner was Richard Busteed for his 1972 Alfa Romeo Giulia Saloon – Richard was presented the Best in Show Cup by Alastair, our Club Chairman.
So what about the weather – how did we fare?  Our Club Chairman's favourite band of the 80's – A-Ha, sang a song called – "The Sun Always Shines on TV" . Well we can genuinely say that "The Sun Always Shines on Italian Vehicles" because we defied the odds and managed to deliver another warm and dry event. We kept the rain at bay and it wasn't until early evening that the rain made an appearance in Lisburn.
So, all in all another fabulous event and a great opportunity to showcase Italy's finest. It was a real team effort but the success of the event is dependent on Italian car and bike enthusiasts attending. We are extremely grateful to everyone, who made the effort to come to LVI despite the prospect of poor weather. Ciao for now ….until our next show.
Tim Logan
Club Secretary