Farewell to Herbie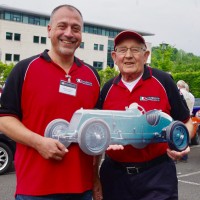 Yesterday we said farewell to Herbie McBratney, our much loved friend and loyal member of the Northern Ireland Italian Motor Club. Herbie passed away suddenly on 14 June 2017 at the age of 81 and club members arrived at Seymour Street Methodist Church in Lisburn yesterday afternoon to join his family in a Service of Thanksgiving for his Life.
The service was a moving, yet uplifting experience as the reflections and memories of Herbie that were shared by his family and many friends truly captured the spirt of a great character who brought a smile to the face of anyone that he had contact with.
Herbie was fun, mischievous, cheeky, irreverent but these words only go a little way to describe his big character. Herbie loved to tell a story or a yarn (and often we struggled to determine whether they were fact or fiction). He was a friend to everyone in the club and members quickly came to love his infectious sense of humour.
Herbie was also honest, loyal, humble and a man of great integrity who was always keen to help out at the club in whatever way he could. He demonstrated this every year by providing his generator and his caravan and awning for the DJ at our annual show. As club members we reflect on the fine form he was in at the end of May at our show, despite his failing health, and I know that members will cherish those last conversations and inevitable banter that they had with Herbie that day.
Alastair, our club chairman recently described Herbie as a character with a capital "C" and we all echo this sentiment. Herbie was a "one off"  – a man who enjoyed mixing with people (or mixing it!!), who dearly loved his family and who lived life to the full.
Our hearts go out to Anne, his wife, to his children, grandchildren and great grandchild at this difficult time but we hope that they will find comfort and strength in the memories of all the happy times they spent with Herbie. As club members I know we will cherish all the fun times we spent together. Herbie will be remembered fondly  and never forgotten.
We know that his spirit lives on and that he is probably making mischief right now, wherever he is!!
Tim Logan
Club Secretary