July Club Run 16th July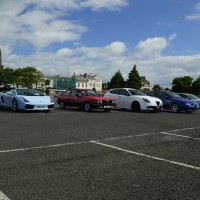 Sunday 16th July was a lovely Sunday morning, so we set off for a run around the Antrim coast. Johnny, Dave, Paul, Stuart and I assembled at Carrickfergus Castle for a 10am start. Johnny was last to arrive in his new Lamborghini Gallardo Spider. Needless to say we heard its v10 engine before we saw it! Once Johnny had parked up, we all had a chance to scrutinise his new acquisition. It looks superb in its unusual powder blue colour.
After our Lamborghini inspection was finished we were ready for the off, after Paul used his photography skills to take a few snaps. We then headed across country towards Larne where we met up with Neil in his 500 Abarth. We set off in convoy around the coast road. Our initial aim was to go as far as Ballycastle but as it was such a nice day a lot of other people had had the same idea as us, resulting in a 30mph convoy. Our Italian stallions endured the torture until Waterfoot when we stopped and made the decision to turn left and go up Glenariff.
At the bottom of the Glen we stopped at Laragh Lodge where we replenished ourselves with some brunch. Re-fuelled, we then set off to drive what was the Glenariff hill climb. This is a great piece of road that is a pleasure to drive on. It has great combinations of both slow and fast corners. This was more like it! Afterwards we headed towards Ballymena and at the bypass we went our separate ways, with the east Antrim contingent heading over Moorfields to home. All in all a good drive out in an eclectic mix of Italian machinery.
Alastair McIlroy