Alfas Reign in the Rain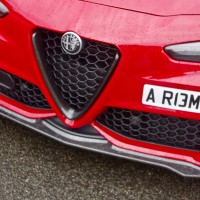 It was the last Saturday in May and that can only mean one thing – it was the Northern Ireland Italian Motor Club's annual show at our established venue of Lagan Valley Island (LVI) in Lisburn. There was one distinct difference from previous years and that was the fact that unfortunately the sun was not splitting the trees and we had not managed to secure the type of weather that Italian cars are accustomed to in their place of birth.
Nevertheless the intrepid band of cub volunteers were undaunted and turn out in force at LVI to set up for the show. This year we had shortened the show's duration to 4 hours with the display of cars officially kicking off at 12 noon. In previous years our friends from the Alfa Romeo Owners Club Ireland Section and Classic Fiat Ireland had tended to arrive a bit later when some other earlier arrivals were ready to depart so with the later start time we hope to have a better concentration of cars at LVI at the same time.   The bank holiday weekend is always a busy time with many other competing events and this year we were victims of this as well as victims of the changeable weather. It was certainly warm enough but rain and car shows are not really a winning combination and regrettably some who had intended to display their vehicles stayed away.
However the quality of cars that were on display did not disappoint. The green, white and red bunting added a touch of Italy to the event and it fluttered gently above as a signal to everyone arriving that they had come to the right place with their Italian cars and bikes. despite the weather we managed to attract a good mix of cars and bikes, both old and new.The best represented marque this was was definitely Alfa Romeo with a broad range of cars spanning a number of decades. We had Alfa 75s (one in the process of being restored), Giulias, Stelvios, Giuliettas, Mitos, Breras, 159s, GTVs and GT Coupes as well as 156s and 147s.
Other marques were represented too with Lamborghini, Ferrari, Maserati, Lancia, Abarth and Fiat all being present.
Donnelly Group and Charles Hurst Specialist Car Division had brought some of their latest offerings  and our heartfelt thanks once again goes to Drew McVeigh from Donnelly's and Marco Dos Santos from Charles Hurst and both their teams for bringing their cars and supporting our event. The support from both dealerships has been superb since we started running our show at LVI and we really appreciate the partnership that we have with them.
It has been custom and practice to award a number of prizes for stand out vehicles and bikes and this year was no different. Mervyn Shannon from Shannon's jewellers selected a cute little Fiat 500 whose owners had drive it all the way from Dublin as his pick for Shannon's choice and prizes were also awarded for Best Italian Car and Best Italian Bike. The Herbie McBratney Cup for the overall best in show was awarded this year to a beautiful blue Lancia Aurelia which had made a fashionably late appearance at LVI. There were other worthy contenders but everyone was agreed that the stunning lines of the coupe styling of the Aurelia made it the stand out car this year. It was great to see the McBratney family at LVI with their much loved Fiat 1500 Cabrio that Herbie had cherished for many years and it was fitting that his son-in-law Rodney presented the Best in Show cup.
Our lucky run of warm sunny days for our annual show may have come to an end this year but the rain did not dampen the enthusiasm of those who did attend and as usual there were many good conversations, interesting stories exchanged and new connections established.
We will return to LVI again next year and have resolved to pray a little bit harder to a certain person who controls the weather so that once again the sun may shine on us and we can attract the huge turnout of cars and bikes that we have become accustomed to.
Tim Logan