NIIMC Members Go West for Best Driving Roads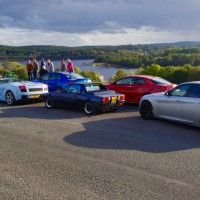 The summer has been and gone without too many club runs to boast about in recent months. Members therefore decided to make sure that autumn would be different and so a trip to Enniskillen with an overnight stay in Mahon's Hotel in Irvinestown was duly organised. A dozen club members and ten cars signed up for the run and we all met at our rendezvous point of Donnelly's at Mallusk on Saturday morning. After a chat with Drew and colleagues and a few photos of the cars we set off to Enniskillen via a much more interesting route to avoid the monotomy of motorway driving.
From Mallusk we headed to Templepatrick, Antrim, Randalstown and then on to Cookstown via a few more reference points on the way. We travelled in convoy and attracted many admiring glances for those who appreciate Italian style and the soundtrack to go with it – whether that be the burble of the 124 Abarth, the smooth Busso V6 or the rowdy V10 courtesy of Johnny McCall in his Lamborghini Gallardo Spyder along with his travelling companion Simon. As the weather was dry and sunny the hood went down and the Lambo boys did a bit of posing.
We stopped for lunch at the Greenvale Hotel just a little later than we had planned – we lost Tom Selleck (aka Alan Kingsbury) in his Ferrari 308 for a short period as we think Magnum had to nip down the wrong road to follow up on a lead on a private investigation but he did return for his lunch – a spicy chicken curry.
To spice things up a little more Bryan Pearson led us from Cookstown to our next stop, a beautiful viewpoint in Enniskillen, along some challenging A+B roads which tested the credentials of the selection of Italian cars, both old and new that had come on the trip.  After a short stop to admire the views and take a few photos we decided to do a loop around part of Lower Lough Erne before heading to Mahon's Hotel in Irvinestown where we would be staying overnight. With the cars safely parked up we enjoyed some welcome liquid refreshment and marvelled at the wide range of tasty dishes on the dinner menu. Everyone agreed that the food was top quality, great value for money and was served by friendly staff who were very attentive and looked after us throughout the evening.
With some new club members and partners joining us the relaxing hotel surroundings provided the ideal opportunity to chat and get to know them better. Being like minded petrol heads we also exchanged a few car related stories over a few more shandies. Some us knew when it was time to go to bed – some others didn't!! Enough said (you know who you are).
As the weather had turned a bit nasty overnight with heavy rain we abandoned any plans for a brief Sunday morning run and instead most of us headed straight home along the not so enjoyable motorway route.
All in all an enjoyable and successful weekend which has strengthened our resolve to arrange a further overnight before too long and a few more day trips over the winter months.
Tim Logan
Club Reporter and Official Photographer