Tudor Cinema welcomes NIIMC Members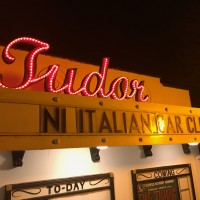 On Tuesday 3 March 2020 before we entered lockdown and started to encounter the impact of COVID-19 on our everyday lives members of NIIMC were delighted to return once again to the Tudor Cinema on the outskirts of Comber to watch the documentary "Lauda, the Untold Story" which gave a fascinating insight into the personal strength and determination shown by Niki Lauda as he battled to return to Formula 1 motor racing after his horrific accident at the Nurburgring in 1976.
We had a healthy turnout and members enjoyed the opportunity to look at a range of movie posters that adorned the walls and some other movie memorabilia before settling down in their seats to watch the documentary.  No cinema experience is complete without the mandatory helping of popcorn and fizzy drinks. Simon had a generous helping but he was eclipsed by Ricky who used his NIIMC coat to good effect by stuffing extra popcorn into the deep pockets so he had plenty in reserve throughout the movie!!
Our thanks to Noel Spence, owner of the private cinema for the warm welcome that he gave to NIIMC members and we look forward to a return visit in due course when circumstances permit.
Tim Logan