Supercar Funday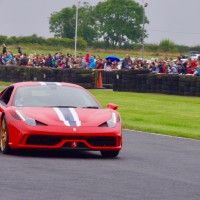 As we drove down to Bishopcourt Racing Circuit on Sunday 15 August 2021 I was hopeful of an impressive selection of supercars to feast my eyes on – and I was not to be disappointed.  Judging by the huge crowd that descended on Bishopscourt they too anticipated that this was an event not to be missed for true petrol heads  – and we have more than our fair share of them in Northern Ireland.
The carparking at Bishopscourt was generous and the volunteer marshalls were friendly and helpful as they directed us to a space.  There was even some tasty metal amongst the spectators cars let alone those on display. As we wandered across to the circuit it was pleasing to see a real mix of cars in the display area – a Marina Coupe, and a Mini Clubman parked beside a Ferrari 308 caught my eye. The Northern Ireland region of the Porsche Club had turned out in force with almost 3o members cars on display. There was also an impressive selection of Subarus, BMWs and Fords and I was pleased too see that someone else had good taste and had brought their stylish Vauxhall Calibra along (still a beautiful shape 30 years on and definitely a future classic).
But the real attraction of the day was the convoy of supercars that we were expecting to see. When we arrived at 11.15ish there were only a few supercars in the paddock area but a metallic green Ferrari Enzo flanked by an Orange McLaren 570S set the standard which we hoped would be met by the other cars that were expected.
The rest of the cars arrived fashionably late (by about an hour) but no one seemed to worry as everyone lined up alongside the pit lane wall and on the grassy bank on the opposite side to see a fantastic selection of exotic supercars arriving.
There really were too many to mention specific models (who would have thought there was such wealth in Northern Ireland!) but amongst the cars on show were Ferraris, McLarens, Porsches, Bentleys, Aston Martins, Lamborghinis, Alfa Romeos, Lotus, Audis and BMWs. (hopefully the photos will help you judge the quality of cars on display).  No surprises that the Italian machinery drew many admiring glances – whether it be a Lamborghini Huracan Performante or a Ferrari 812 Superfast.
After a parade lap around the circuit on arrival the cars then parked up on display in the paddock area.  During the course of the afternoon a select number of drivers  offered spectators a chance to pay for a supercar experience and enjoy the thrill of being driven round the track in some stunning cars. The atmosphere at the show was intoxicating as was the noise of 6, 8 and 12 cylinder engines and the smell of the exhaust fumes in the air.
I suspect that the turnout exceeded the organiser's expectations, so many congratulations to Ronan Cunningham and his team for a great family event. All proceeds from Supercar Sunday went to two worthy causes –  the Northern Ireland Air Ambulance and the Northern Ireland Hospice.
Here's hoping Sunday's event is a blueprint for a repeat display next year – who knows it could be even bigger and better. I for one will be looking out for a date and putting it in my diary.
Tim Logan
Club Chairman