Carrick and Cloverleafs!!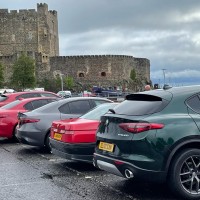 It had been over 3 months since our early summer club run so it was high time that we took the opportunity to get some Club Members together for an autumn run and despite the damp conditions with some light precipitation in the air the turnout on Sunday 17 October was decent with 8 motors arriving at the meeting point at Carrickfergus Castle. Evidently other car clubs had the same idea – the MX5 club were heading out of Carrick towards Jordanstown and the Capri Club were just waiting for Doyle to arrive before Bodie and the gang headed off for a drive.
Some NIIMC members had taken advantage of the local eateries to grab some breakfast to give them the necessary fuel for the run which would be led by resident rally driver Alastair 'McRae" McIlroy!!  Alastair had decided to treat everyone to a re-run of part of the route used for the Titanic Deja Vu from 2018 (I co-piloted Alastair on that day and still get flashbacks at some of the thrills from that experience).
it was good to see some new and some older familiar faces join us – Luca Mahdi in his very rare Alfa 164 series 2 Cloverleaf, Nathan in his Giulietta Cloverleaf which had received a stage 1 re-map and coupled with some other enhancements was boasting around 300bhp. It was also great to see our good friend David Laird (and his wife) in his beautiful Stelvio Quadrifoglio.
The route we took was Carrick- Glenoe- Larne- Cairncastle- Coast road- Waterfoot and then there was the obligatory lunch stop at Laragh Lodge before heading home via Glenariff Hill Climb – Rathkenny- Broughshane and then to Ballyclare.
The cars performed well and just about managed to keep up with the pace setter.  Everyone enjoyed the scenery and the good driving roads and of course the chance to catch up and exchange stories. Assuming we have the interest levels I think there is a strong case to be made for another run this side of Christmas.
Tim Logan
Club Chairman