Modern Tyres – stunning cars – fresh coffee!!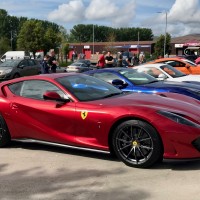 It was a sunny Sunday morning so what better way to spend it than to head down to Modern Tyres on Duncrue Street to feast our eyes on an eclectic mix of cars with a mandatory shot of fresh coffee to enhance the experience. The Cars and Coffee events have become part of the staple diet for those who like their cars – the concept is simple with car loving folk bringing their cars along to park them up, chat to fellow petrol heads over a coffee and admire the range of assembled metal.
The turnout at Modern Tyres on Sunday 7 May 2023 was impressive with cars to suit all tastes. Of course I am biased but with the likes of a Ferrari 812 Superfast, a Ferrari 812 GTS, a Ferrari 296 not to mention a Lamborghini Huracan the Italian marques had it sewn up if there was a prize for the most eye catching motors. However to focus solely on the Italian supercars would be an injustice to the other stunning cars on show – from Porsche, Mercedes, Audi, BMW, McLaren and Ford as well as a number of Japanese and French offerings and American muscle cars.
It was pleasing to see a few club members displaying their cars – David McCalmont and his Alfa Romeo Giulia Quadrifoglio and Johnny McCall and his Lamborghini Gallardo Spyder. Both cars received many admiring looks from car loving enthusiasts who clearly recognise something stylish and capable when they see one (that's the cars not their owners!!)
After a couple of hours looking, chatting, drinking coffee and listening to the musical soundtrack from some exhaust notes we headed home – we agreed that it was a very pleasant way to spend a few hours on a Sunday morning.
I am looking forward to the next one.
Tim Logan
Club Chairman