BOVC show in full flow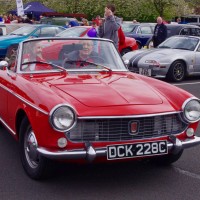 Warren Park in Lisburn was the venue for the annual Banbridge Old Vehicle Club (BOVC) show on Sunday 23 April 2017. As one of the first shows of the season it always represents a good opportunity for car enthusiasts to get their motors out for a run after being tucked up in hibernation over the winter months.
The BOVC show also raises much needed funds for the Northern Ireland Children's Hospice and organisers were pleased to see a healthy turnout of cars and spectators who willingly contributed to the fund raising effort.
NIIMC were not there in strength this year, mainly due to the full day excursion and superb attendance at Dungannon and Londonderry the day before. Whilst some members would have liked to attend rumour has it that "she who must be obeyed" would not give them a pass out two days in a row. Nonetheless we had half a dozen Italian cars there to add a bit of style to the proceedings.
Herbie's Fiat 1500 attracted much attention but not as much as his travelling companion – a young lady that Herbie told us was his new girlfriend!! (it was in fact his lovely grand daughter).
Parked beside the Italian cars was a stunning example of the much under rated Vauxhall Calibra (I wonder who owns it?) and we had a fleeting visit from Drew McVeigh and his family in the stunning Alfa Romeo Giulia Quadrifoglio.
All in all it was an enjoyable day with a really good mix of vehicles old and new. Some of the cars on display were worth a few pounds yet others were good honest examples of everyday cars from several decades ago which were perhaps unremarkable in their day but are now becoming collectable.
I hope you enjoy the section of photos.
Tim Logan
Club Secretary