Join our club run for some driving fun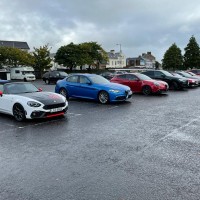 As Club members are well aware our monthly meetings have been on hold for some time in light of COVID and the associated restrictions. However, we are glad to report that things are getting back to normal and we held our first club meeting for over 2 years at the start of April. We have decided to trial a new venue for our monthly meetings and met in the Corrs Corner Hotel at our usual Tuesday evening time of 7.30pm on 5 April.
We had 12 members in attendance (not too bad at all) and high on the agenda was the desire to get out for a club run now that the weather is improving.
Our first club run of 2022 will therefore take place on Sunday 24 April. We will meet at Carrick Castle carpark at 10am for those who fancy a bit of breakfast beforehand with the cars leaving for the drive at 10.45am sharp. It would be good to see as many club members as possible and with the weather forecast looking pretty good what better reason to get the car out for a cruise on some great driving roads around North Antrim and the Antrim Coast.
Hope to see you on Sunday morning.
Tim Logan
Club Chairman