Stormont is stunning backdrop for classic car show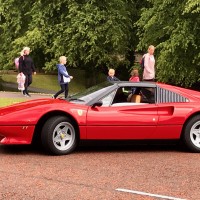 The scene was set for what promised to be an impressive turnout of all kinds of motoring magic in the grounds of the Stormont Estate, thanks to the organisers from the Dollingstown Classic Car Club.
This was the first time that the club had secured the use of the Stormont Estate for a charity event that will hopefully be an annual fixture in the motoring calendar. The proceeds from today's show were going to Action Cancer and the Northern Ireland Pancreatic Cancer charity and it was pleasing to see a broad range of vehicles on display as well as plenty of visitors to the estate to admire the assembled machinery.
Members from the Northern Ireland Italian Motor Club met for our mandatory breakfast stop – a coffee and maybe something to accompany it from the golden arches. We met at Knocknagoney and then travelled the short distance to the Stormont Estate.  As we arrived we knew it was destined to be a popular event judging by the volume of cars queued along Prince of Wales Avenue. We lined up our selection of Italian cars in date order starting from the late 60s through to the current day.
Despite some regular attenders not being available we still had a healthy turnout of 16 cars. Brian's Alfa Romeo Giulia was the oldest (1968) and Paul's modern day Alfa Romeo Giulia was the newest (2021). The 90's was well represented with Luca's 164 (1993), Jeremy's 155 (1997) and Tom's Alfa Spider, James' Fiat Coupe Turbo and Stephen's Fiat Barchetta (all from 1998).
Johnny arrived a little later in his Lamborghini Gallardo Spider – our theory being that he wanted to make a grand entrance on his own!! To be fair to him his Lambo did attract plenty of attention, especially from the younger show visitors who were clearly on the look out for some supercars.
Other clubs attended with a range of cars  – from Ford Mustangs, Rover Club, NI Vaux/Opel club, Mazda MX5 owners and the usual selection of fast Fords but none of them provided the breadth of style, design flair and range of different cars as NIIMC.
There was plenty to feast the eye on – too many cars and buses to mention them all but some particular favourites of mine were the Citroen SM, some Mk1 Toyota Celicas, a blue Ford transit van complete with a matching Ford Escort RS Mexico and a stunning gold Opel Kadett.
It was also good to see some other club members and friends arrive to take a look even though they weren't displaying a vehicle.
The weather held up for most of the event but rain did eventually arrive so people took shelter under the canopy of the trees – the rain did not however dampen the spirits from what was an enjoyable event. Well done to David Mather and his colleagues for the hard work behind the scenes to organise such a successful event.
Some remarked that it was good to see Stormont being put to good use, as the politicians haven't been terribly successful in doing so in recent weeks, but I couldn't possibly comment on that.
It was a worthwhile event for a worthy cause and thanks to NIIMC members for making the effort to attend to show off a bit of Italian flair and design.
Tim Logan
Club Chairman